LAGONDA RAPIER – year 1935
Manufacturer: Rapier Cars Ltd., Hammersmith, London W. 6, Anglia.
Wilburn Gunn founded the Lagonda car company in the late 19th century, the production of which for a long period included only heavy ones, sturdy travel cars 3- and 4.5 liter capacity. The production of luxury cars continued, when in 1933 r. The new Rapier small sports car has arrived at the London Motor Show at the Lagonda stand 9,5 HP.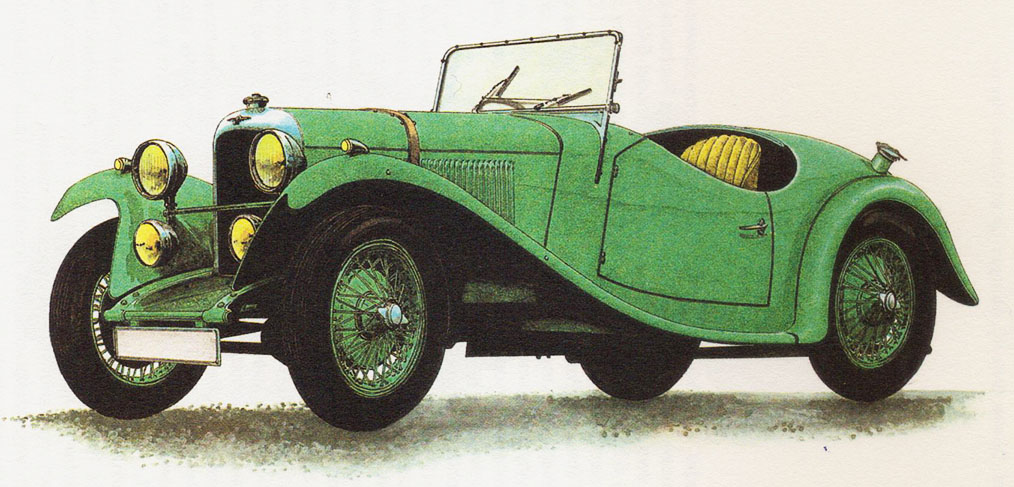 Mark 9,5 HP corresponded to the tax class, calculated at that time from the total area of ​​the pistons. The car had a 4-cylinder in-line engine with a displacement 1085 cm3. Two camshafts in the cylinder head controlled the valves in the OHC system. The engine with two SU carburettors developed power 33 kW (45 KM), but it was customizable to 51,5 kW (70 KM) and in this version he participated in races. The power transmission was carried out via a 4-speed gearbox with preselection. The chassis had a classic concept with a rigid suspension of the bridges, sprung with semi-elliptical springs. Girling's hydraulic brakes worked on the wire-spoke wheels. The car with a series engine developed top speed 120 km/h. Convertible - it had a lot of weight 900 kg and consumed 9 do 121/100 km. The roadster shown in the picture was one of the few models made by the British Whittingham company & Mitchell.
Rapier did not bring the expected financial results, and therefore in 1937 r. its production was discontinued. The unrealized orders were taken over by a specially established company, Rapier Cars Limited. Former designer of Lagonda W.. H. Oates equipped serial cars with compressors, which allowed owners to participate in races without expensive special engine adaptations. The rapier in this version developed the maximum speed 144 km/h. Total produced 300 copies of these popular sports cars.
W 1947 r. Lagonda was bought by a company known for its sports cars - Aston Martin-Dawid Brown.